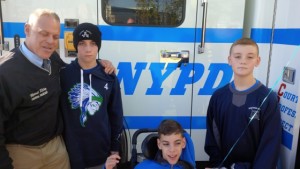 I am Police Officer Merritt Riley and my Inspiration for, With Arms Wide Open is my son Aidan. I often say that for Aidan I would change everything in a heartbeat, however for myself I wouldn't change a thing. Aidan has changed my life, he has taught me and inspired so much from the wheelchair in which he sits, more so than any able bodied person would be able to. The determination, Courage and strength Aidan exhibits every day is nothing short of heroic, he is the best Teacher I've ever had.
Aidan and his Twin Brother Merritt were born on March 27, 2002. Aidan was born with a condition called Hydrocephalus which lead to him having Cerebral Palsy. Their younger brother Brendan was born almost a year later on March 25, 2003 and together Merritt and Brendan have become Aidan's greatest protectors, they include him in just about any and every activity that they take part in. They take him out and include him with their friends, they make sure that he is accepted for who he is and make sure that their friends get to know him. The interaction between the 3 of them is very special.
My Dad  was a Police Officer in Hempstead N.Y. and he always brought my Sisters and I around his Police Family, we were always going  to events where his fellow Cops and their families were there as well, we learned at a very young age about the bond and friendships that were formed among Police Officers, My Dad was still close to many of his co-workers years after he retired, we also learned that we were never going to be rich , but we soon realized that if the friendships we had were measured in Dollars , we were Millionaires ten times over. My Dad always had a very Special place in his heart for Children, especially those who didn't get a fair shake in life, he was always giving of his time, money (even though there wasn't much) etc. He was always there for the little guy. My Dad loved all of his Grandchildren but I know he had a special place in his heart for Aidan, there are times when I believe I was blessed with Aidan because of the way my Dad was with Kids just like Aidan.
I became a Police Officer in January 1992, I wanted to follow in my Dads footsteps, it was 6 months later when I met my best Friend Danny Sprague, he is one of those guys that when you are friends with him it feels like you became that millionaire that I mentioned above, over the years our Careers took different paths but the bond we shared only grew stronger, I always say that Danny is the Brother that I never had. Several years before Danny's son Owen was born I asked Danny with some help on an Idea that I had come up with, and that was to start a support group for cops who had children with Special Needs, I wanted to do something with the knowledge I had gained from raising my son Aidan and direct it to my 2nd family, the Police Department, as with everything Danny does he dove right in and told me that he would help me with anything and everything. Once Owen was born it was a sign to get this Foundation going and to start getting some very much needed help out to the Cops that needed it.
I cannot say that there is an exact Science out there to Raising a Child with Special Needs, and if there is I am not anything close to an expert, we all do what we think is best for our Children. I've been a Police Officer for over 24 years now and I don't pretend to know everything about "The Job", but I think I know about the Culture and the way in which we react when faced with some kind of Adversity or Hardship, that being said I know that we will bring some sort of relief, whether it be Financial, Emotional, Educational etc. to the very special group of Parents, Children and Families that is what, With Arms Wide Open is all about.
Thank-you and Stay Safe!
Merritt Riley