A support group.  A resource center.  A clearinghouse of information.
WITH ARMS WIDE OPEN
Is all of the above and so much more.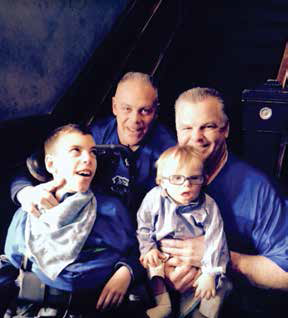 The mission of our organization is to provide a forum where cops of all ranks, and their families, can attend meetings and discuss issues surrounding being the parents/guardians/caretakers of a child with special needs.
Born from the experiences of Police Officer Merritt Riley and his family, WITH ARMS WIDE OPEN, answers the call to create a community for cops and their families with special needs children. Often times the families with disabled children feel isolated and are desperately in need of an organization that address their very specific needs and issues, we hope to help these families care for these children while navigating through the culture, complexities and dangers of being a member of the New York City Police Department.
As the strongest advocates for their children, our parents can network with each other to; share knowledge, ideas, resources, experiences etc.  We will have doctors, special need lawyers, therapists, equipment representatives and field specialists attend our group meetings in order to answer questions and preview equipment/therapies to aid in the daily life of these very special children.
We have been able to assist many of our members with specialized pieces of equipment such as a child treadmill which starts 0 mph as apposed to 1.0 mph, specialized bicycles with hand pedals, special motorized wheel chairs. We have also helped families with special therapy sessions that insurances do not cover, and provided financial support to families with children that have extended stays in hospitals which can be overwhelming.
We are also looking in the future to help siblings, as they are just as important as a special needs child, to help alleviate some of the stressors that are placed upon them by these amazing children by providing recreational outlets and other endeavors.
Unique in our mission, WITH ARMS WIDE OPEN will be available to any cop, active or retired, regardless of rank.  As there are never any dues, donations and fundraising will be our organizations only source of funding.