DON'T BE SHY ASK ME WHY is an awareness campaign we are launching, to encourage people not stare, when someone looks, acts or even dresses a little different.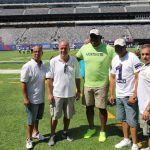 It is in no way intended for people to approach strangers with disabilities out of sympathy, but rather to break the ice and start a conversation or just acknowledge someone with a wink and a nod if you feel the need to stare.  #DontBeShyAskMeWhy can be achieved in so many different ways each having such a tremendous impact on the lives of a person with special needs, their families, wounded warrior's, our elder's or anyone for that matter.
The mere acknowledgement from another human being can change someone's hour, day, week, or even life! #DONTBESHY can and will do just that,  watch as this becomes infectious, especially when you see the changes in someone's disposition the moment you acknowledge them, it can only bring you the same joy and happiness. #ASKMEWHY comes into play when you help spread the message!
Ultimately we hope that this will carry over to our everyday lives, making for a happier and more positive experience for all in our day to day routines. We are all more alike than different, and with a little awareness and courage we can encourage everyone we know to approach and "Break the Ice" and "Just be Nice" with a #WinknNod  #GoodMorning #HeyBeautiful #LoveYourHair #HeyYoureAGiantsFan the list goes on and on. Your gesture will change the day of someone that you would've just stared at or ignored otherwise. Treat those with special needs the same way as you would pass and make eye contact with someone you consider to be more like you, let's not shy away from a child or adult that you perceive to be different then you. The more we engage the more we will realize how much we are all the same.
To do your part, take the "Pledge" by copying and pasting the pledge it to your social media sites and challenge your friends to do the same, then hashtag our #DontBeShyAskMeWhy, plus your ice breaker hashtag ( example: #HowDidYouLikeTheMovie ), the ways are endless!
Take The Pledge:
I pledge to
Break The Ice and Just be Nice
instead of
Staring or avoiding someone
who looks , acts or sounds different than me.
I know that we are all more alike than different
#DontBeShyAskMeWhy