The children and families of NYPD With Arms Wide Open would like to thank all who made our 2nd Annual Dinner Dance and Awards Night a rousing success!  Because of all who attended, purchased a 300 Club Raffle Ticket, and helped us spread the word, we are able to assist even more MOS families with the astronomical out-of-pocket costs they face related to their special needs children. To date, NYPD With Arms Wide Open has gifted over $200,000 in financial aid and scholarships to our families in need.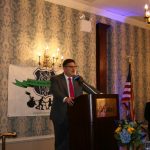 Our 2018 Humanitarian Award Winner, Lambros Lambrou, Esq. addressed our guests in a heartfelt speech about being the father of a special needs child, and how even when life can seem overwhelming – there is always HOPE. We thank him for his continued benevolence and unwavering commitment to the families of NYPD With Arms Wide Open.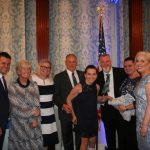 Along with Patti and Conor McDonald, we congratulate this year's winners of the Detective Steven McDonald Memorial Scholarship. All four awardees are a testament to hard work, citizenship and the important virtues of perseverance and forgiveness. We all look forward to their bright futures, and welcome them into the WAWO family. 
Our mission is, and always will be, to help our fellow MOS families navigate the complexities of the job and life with a special needs child. We strive for EVERY child to live to their fullest potential and are here to help in whatever capacity we can! 
If you or someone you know would benefit from the support, guidance and sense of community NYPD With Arms Wide Open can offer, please feel free to reach out or engage with us on social media:

FaceBook:
NYPD With Arms Wide Open

Instagram:
@NYPDWithArmsWideOpen

Twitter:
@NYPDWAWO
*Photos Courtesy of Glenn Lynch,  2018.