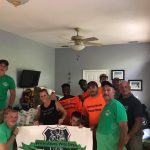 With the help of the "With Arms Wide Open Family and Friends" we were able to help out our fellow Americans in Florida after hurricane Irma with your donated supplies and monies. We caravanned down to Jacksonville and Clay County areas to dropped off donated supplies and loaded up some vehicles heading further down to Dade County area.
In the Black Creek area, we were able to hook up with our Law Enforcement brothers and sisters and some families with special needs children to help with a little clean up and try to bring back some little  bit of normalcy. With the donations we will be sending checks directly to the families we have met and seen this devastation first hand. As always thank you for your continued support and compassion.
From All The Families
With Arms Wide Open
Thanks You
Video and photos are of the Black Creek, Clay County, FL. area.