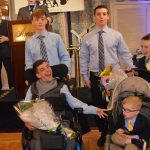 The Children of "With Arms Wide Open" would like to thank everyone who attended and participated in our 1st Annual Dinner Dance at Antun's of Queens Village. We are overwhelmed by the support shown to us over the past 3 ½ but especially from the 420+ guests who attended the Dinner Dance.
Your dedication to "With Arms Wide Open" will ensure that our children are not doing without and are prospering in all that they do. That they are writing their stories and not following the out dated prognosis given to many parents on what not to expect. Thanks to all of you "WAWO" has been able to offset Members of Service with a child or children with special needs, their medical costs, prescription drug cost, therapy session not covered under insurance, the purchasing wheel chairs, special running chairs, adult strollers and contributing to research funding for causes directly related to our children. To date we have been able to give out over $90,000 to above said causes and much more.  With you help and support we hope the more officers will let their protective guard down and if needed ask for help!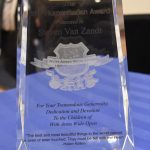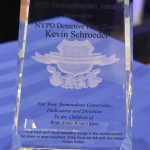 We would like to Thank our 2017 Humanitarian Award Winners 1st Grade Detective Kevin Schroeder and Steven Van Zandt for the incredible work they have done over the past 2 ½ years raising more than $200,000 for WAWO
We would like to also Thank Chief Jeffrey Maddrey of Patrol Borough Brooklyn North and his Entire Staff along with Lambros Lambrou of the Police Reserve Association of the City of New York and his Team, Evan and Amir from Ideko Productions and the many more volunteers that helped put together PBBN 5K and helped raise over $24,000 for WAWO
To Patti and Conor McDonald for allowing us, the honor of using her husband's and his father's name, and create The Detective Steven McDonald Scholarship Award.
We would like to congratulate our 4 winners this year and thank all of the applicants for their wonderful essay's and allowing us a glimpse into their lives.
Our mission is and always will be to help our fellow MOS. Who may find themselves worrying not only while they are at work but also while at home, with dealing with a child with special needs. The formidable task of helping our children reach their abilities to the fullest, and shatter the ceiling with the stigmas set by some of society on their place in life.  Their stories are only just beginning and with the help of supporters like you they will write their stories setting the goals for future generations!!!!!! Please click Read More to view any of the photos above and more from the 1st Annual Dinner Dance.