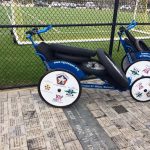 Great day 4-1-17 at the 9-11 Towers of Freedom Memorial where With Arms Wide Open teamed up with The Towers of Freedom Memorial Foundation,  The Brian Moore Foundation and Ainsley's Angels and worked together to purchase these beautiful Running Chairs for Kevin and Sean sons of Kevin Carroll Retired MOS who are suffering from Duchenne Muscular Dystrophy. The Carroll Family also donated a Special Needs Bike to Ryan Haskell.
Among those in attendance was Patti McDonald, Ray Moore, Peter King and Joseph Saladino. Also honored were Retired Corrections Officer Michael Bannahan and NYPD P.O. Peter Mehan.
A Special Thanks to Tom Smith, Frank Haskell, Kenny Haskell and all the volunteers who worked so hard to make this day possible.