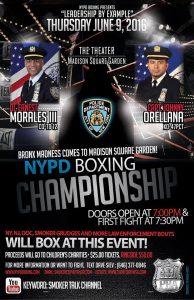 All MOS Active and Retired along with NYPD Civilian Members. Please fill out the form from our pin post located on NYPD With Arms Wide Open Facebook page or if you need a form you can email me at dsprague@nypdwawo.org
Here's your chance to have one of these FINEST Boxers, box in honor of your child at the upcoming Bronx Madness NYPD Boxing Championship held at Madison Square Garden on June 9th.
There will be a live FB drawing held on June 2, at 7pm @ NYPD BOXING to see who will be boxing for which children and the Charity of their choice.